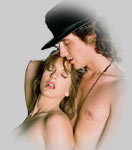 "What a pity. You are so delicate. Your lover should have been gentle, and quiet. I could imagine it," he whispered. "He'd kiss you as though your mouth were an opening rose, maybe using his tongue just a little. And you'd close your eyes and feel like you were kissing an angel. And then he would trace tiny kisses to your neck, and your earlobe, so you would shiver just a little. He would touch your hair as though it were precious Thesonian silk, and breathe in its perfume while he stroked your cheeks."
He reached up to touch her chin, more tenderly than his rugged, scarred hands would suggest, and, she became certain of what it was that he wanted. Part of her saw an opportunity for freedom. But most of her was quivering at the thought. She waited, eager for him to continue.
"Then he would remove your robe, untying every ribbon with care and easing it down, off your shoulders, off your waist, dropping it carefully around your feet. And he would kiss your feet, and rub your ankles with the lightest of touches."
Read more inside...